Hello again gentle readers, if you haven't already checked out part one be sure to do so. I'm still reviewing games from the Newgrounds front page, it's taking longer than expected hence putting into small manageable sections. So get yourself comfortable and get ready for part two of my flash game extravaganza. Remember, I play crap flash games so you don't have to.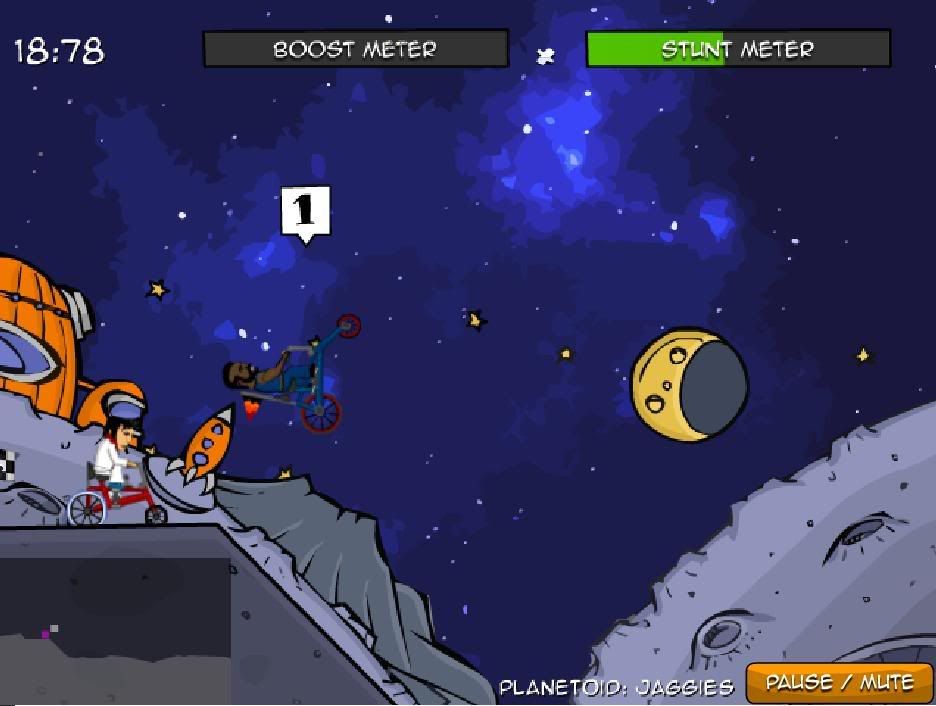 No, your eyes do not deceive you. That is indeed Mr. T doing a back flip, on a push bike, on the surface of an asteroid


This is another game that I've found myself strangely enamoured by. I never really expect much depth in flash games, yet twice during these reviews I've found myself absolutely stunned by the amount on offer. Cyclomaniacs is a 2D bike race/stunt game which includes a large number of challenges, characters and backdrops. There are 20 available characters, 26 levels spanning across 6 zones with each level containing three challenges. That's quite a lot considering you're getting this all for free (you cheap bastard).

The aim of the game is to race through levels performing stunts to gain boost, collecting items and beating opponent racers (yeah original, I know). Each of the levels and characters is charmingly designed and well presented with decent background music implemented as well. The stages themselves are all pretty fun, with different tasks available allowing for plenty of variety. As you do better in the races you can purchase upgrades to your cyclist, gradually making you better at tricks and much faster. Everything flows wonderfully and there's a lot of challenge on offer making this an entirely worthwhile game.

Another surprisingly good title.
Two thumbs up
http://www.newgrounds.com/portal/view/508422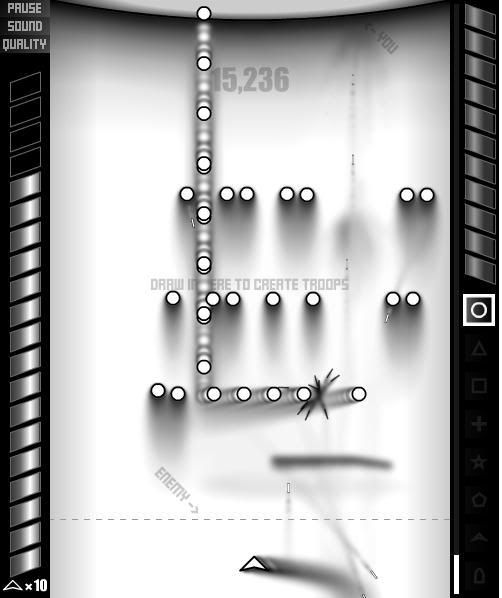 the aesthetic is simple, yet quite sleek


This is a classic example of brilliant concept meets mediocre execution. The competitor sees you taking on the challenge of defending your base from a lone ship, by placing units across the battlefield. Not an entirely original concept, but the USP for this title is that you draw a line where you want your units to assemble. Definitely a very interesting idea; unfortunately on delivery it turns out to be quite weak. The problem is that you can spam the front end of the area with attack units, defeating the enemy before they have the chance to touch you at all. The designers have clearly tried to combat this by limiting the amount of units you can place using an ink gauge; unfortunately this isn't enough to add any actual challenge. It also has the unfortunate result of making the whole experience feel pretty passive. Furthermore the game is criminally short… you'll have finished with the title within 5-10 minutes. Despite all these quibbles though, it is well presented and quite interesting as a concept. For a good effort (if not great result) I award The Competitor
One Thumb Up
http://www.newgrounds.com/portal/view/508478
I'm not quite sure why leaves are a problem for a robot


Again I'm slightly torn on this one. GT and the Evil Factory is a weird sort of action RPG type thing, in which you take the role of a rebellious robot. The first thing I noticed when I started playing this title is that the quality in presentation is massively varied. Throughout the game you'll find really well designed interfaces, with some very interesting ideas in the presentation; but it's all ultimately let down by crap art skills (Words can't even begin to describe how crude it is… scratch that, what I actually mean is that they can, I just can't be bothered finding them). Unfortunately the game play isn't great either, despite being very well put together. For the most part you are required to collect orbs whilst dispatching enemies and dodging things. This might have been interesting for a couple of stages, but it wears thin pretty quickly. As far as I can tell it's the whole game (although to be honest I got bored and stopped playing, so it might get more interesting). Another annoying little niggle I have with this game is that it's filled to the brim, with terrible dialogue and atrocious spelling. I understand that a lot of people can't spell very well, but if you're releasing a game you'd have thought that you'd at least get someone who can to check over it.

I'm probably being slightly harsh on this game, but I really didn't find it particularly fun and as such I have to give it an
in-between thumb
http://www.newgrounds.com/portal/view/508156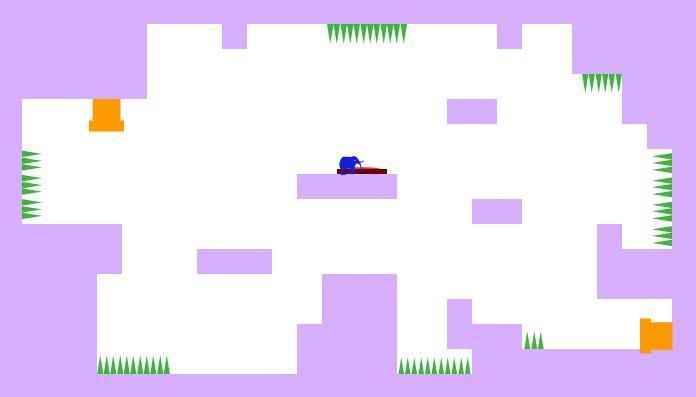 The wise man knows that there are many ways to play one level


This is the only level is very true to its name, there is indeed only one level. However, there are many ways one level can be played. As you'll have noticed from the screenshot, the art style of this game is incredibly crude, but that's the way it's meant to be. The game is meant to exist as a simple thought experiment so complex graphics or area designs would over elaborate the experience. Unsurprisingly, the game does only have one terrain, but there are 30 different ways in which to traverse the level. Each time you make it through it posts you back at the start and leaves you to work out what to do. The puzzles are all wonderfully imagined and it's entirely satisfying reaching the end. It's only a very short game but it packs a trunk full of punch. As such I give this game
two thumbs up


And one more thing…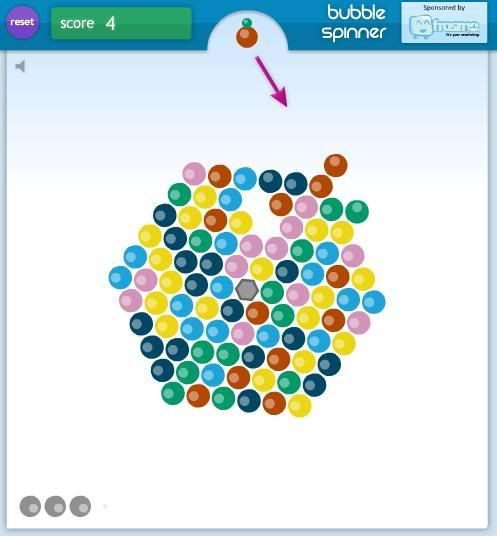 Don't look at it directly


Do remember having a life? I had one once, right up until the moment I received a link to this game from a friend (Thanks dickhead). Now I know I can never leave the house again, Bubble spinner knows if I leave the house, it's important that I don't upset Bubble spinner. Bubble Spinner wants your love too. Bubble spinner has bubbles for you to pop and soothing music that plays repeatedly in your head while you're not playing Bubble spinner, just to remind you that you could be playing Bubble spinner. Bubble spinner wants to be your friend. Bubble spinner is very similar to Super bubble pop and a number of other franchises, but unlike those games, Bubble spinner has bubbles that spin. Bubble spinner will consume us all. Bubble spinner is a highly addictive high score chasing game, but don't let that put you off, Bubble spinner always gives. Bubble spinner deserves more than
Two thumbs up
but unfortunately, I only have two thumbs to give.